FitPAWS®-Peanut (Peanut, DVD, Pump) - Dog Fitness & Canine Rehab Equipment
---
---
---
PRODUCT DESCRIPTION
Indoor Exercise
15 minutes a Day – DVD Included!
Technically Designed for Your Canine
The unique, elongated peanut design provides a dog-specific training platform that promotes better form and a more stable training platform. The versatile Peanut shape targets front-to-back or side-to-side movements, important to dogs new to core conditioning training.
FitPAWS® Peanuts:
• Provides non-slip grip ridges
• Resists damage caused by dog nails
• Saddle (dipped center) provides stability
• Change stability or balance challenge—more air more challenge, less air easier
• Professional-grade, Heavy-duty PVC Material
• Sizes Available: 40cm, 60cm,  80cm
• Inflation Pump and DVD Included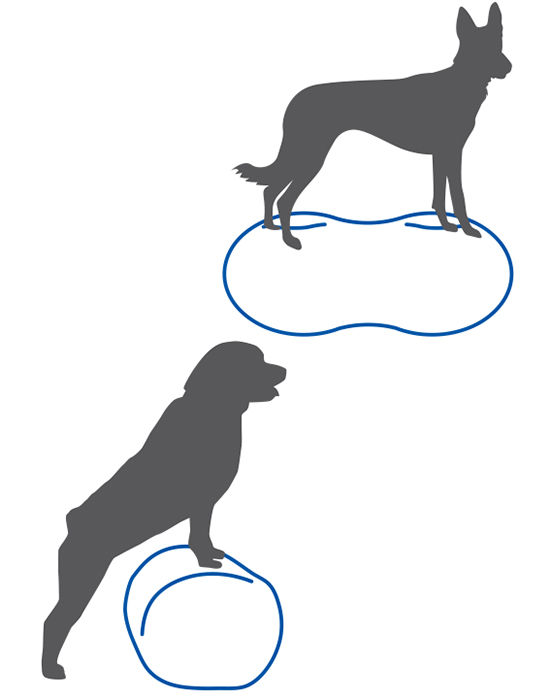 FitPAWS® Guide:
• Basic Benefits and Tips for Training
•  Recommended Exercises
•  Inflation Instructions, Safety and Use Guidelines
The FitPAWS® Peanut can be utilize as a touch target, an obstacle, and as a tool for Stability/Core Training. The Peanut provides a high-to-ground and moderate-to-high level balance challenge. Use the FitPAWS® Peanut for all 5 aspects of Canine Fitness & Performance™ (CFP™) training.
The CFP™ Model highlights the five aspects of Total Canine Health:
• Balance Fitness
• Flexibility Fitness
• Strength Fitness
• Mental Fitness
• Cardio Fitness
GUIDELINES
Weight Limits and Use Guidelines
FitPAWS Peanuts have a canine weight limit of 300 lbs. This is the maximum amount of weight that can be supported under static weight. FitPAWS Peanuts in general are not designed to handle repetitive dynamic load of bouncing under force. Remember, larger dogs exert a lot more force in a tiny area than smaller dogs.
Use and Maintenance Guidelines
Please ensure your dog's nails are trimmed properly. Avoid using if your dog's nails are too long or have any rough edges. If your dog has long nails and jumps off the product, the Peanut could puncture because of the force exerted in a small area with a sharp object.
Sunlight and cleaning products can alter the durability of your FitPAWS Peanut's plastic. Please store out of direct sunlight when not in use and use only warm water and a light soap to clean. Avoid using products like Simple Green, Lysol wipes, bleach and other harsh detergents on your Peanut.
Do not store Peanut in direct sunlight, extreme heat or cold temperatures as they can affect the durability of the product.
Durability
Always inspect your FitPAWS Peanut before each use. Replace any products at the first sign of wear, tears or punctures. Do not attempt to patch the product. All punctured product should be replaced immediately. Storing your product on a stand can affect the quality of the product with wear use marks.
Inflatables are not designed for lifetime use and should be replaced every 1-2 years to ensure the quality of the product is not degraded. Life of the product is dependent on care and frequency of use.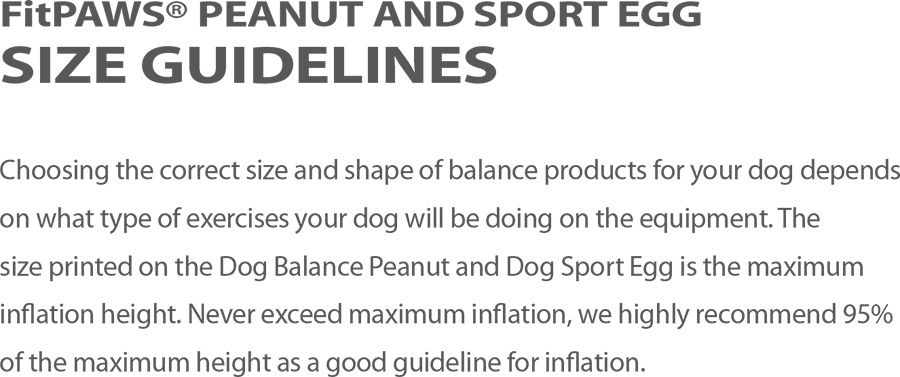 ---
Share this Product
---
---